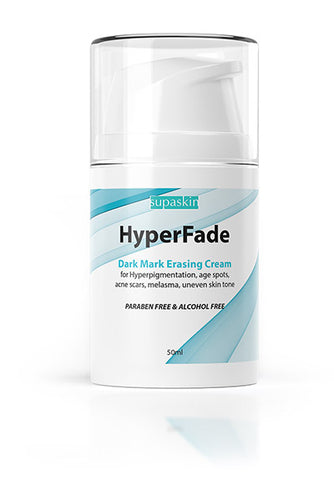 Hyperfade Dark Mark Erasing Cream
Hyperfade Dark Mark Erasing Cream -
50ml
This is a strong lightening cream designed to even out your skin tone and protect the skin against UV rays. Contains powerful whitening extracts to:
reduce hyperpigmentation (spots, freckles, scars)
clear sun damage
smooth skin
even out skin tone
NEW FORMULA! Breakthrough Treatment!

 For Hyperpigmentation, acne scars, age spots, dark spots, melasma, sun damage and uneven skin tone
HYPERFADE - HYPERFAST RESULTS!!
Erase the appearance of dark spots, sun damage & other skin discolourations*
Visibly fades the appearance of:
Hyperpigmentation 
Age Spots
Acne scars
Melasma
Sun damage
Old scars
Dark marks & patches
Uneven skin tone
Hyperfade can used on the face as well as the body - it works due to the unique combined formula of the most powerful, effective and safest skin lightening ingredients.
How does Hyperfade work?
Hyperfade contains a unique blend of highly concentrated proven skin lightening ingredients derived from plant extracts plus Antioxidants, vitamins & proteins which reduce the production of Melanin, the dark pigment in the skin: 
Hyperfade also hydrates and moisturises your skin leaving it soft and smooth and radiant.
Your skin colour comes from a natural pigment called melanin. Melanin pigment comes from melanosomes. The melanosomes in the darker areas of the skin are more active than those found in unaffected areas. The ingredients found in Hyperfade resolve this in numerous ways by dealing with not only the melanosomes, but also the enzyme tyrosinase. With the help of the included exfoliation agents, the initial lightening effects of Hyperfade can be seen within just 3-4 weeks.*
Active Skin Lightening Ingredients:
Active  Ingredients:
GLYCOLIC ACID
LACTIC ACID
GRAPEFRUIT EXTRACT
RETINOL
VITAMIN E
VITAMIN C
GRAPE SEED OIL
COCONUT OIL
ORANGE OIL
HYALURONIC ACID
MALIC ACID
Frequently Asked Questions
How long does it take to see results?
*Most users begin to see initial results within the first 3 weeks of regular use. (this does depend on the individual and can take longer for some users). If the pigmentation in the affected area is large, results may take longer to appear. Results will also vary depending on your skin type, skin condition and the amount of sun exposure you receive on a daily basis.
Are the results with Hyperfade permanent? Do I have to carry on applying the product after I achieve my desired results?
If you are using Hyperfade to reduce the appearance of hyperpigmented areas, the results are usually permanent. Although, it is advisable to still apply it now and then to maintain the effects. Sun exposure should also be limited to maintain results. We strongly recommend the use of a sun block of SPF 30 or higher if going out in the sun.
Should Hyperfade be applied only on the dark marks or in the general areas of the affected skin?
It should be applied in the general areas of the affected skin. For instance, if you are treating several dark spots on the forehead, cheeks and chin, you should apply the cream on the entire face so as to gradually fade all spots.
How does Hyperfade lighten the skin?
Your skin gradually becomes dull and patchy over time, mainly due to sun exposure. Hyperfade works to lighten the overall complexion by reducing the appearance of hyperpigmentation due to sun damage. After a few months, the treated skin will gradually become smoother and will eventually be restored to it's original radiant colour and even tone.
Does Hyperfade  work on all skin types?
Yes. This formula works on all skin types. 
Can I use Hyperfade on the body?

Yes, Hyperfade can be applied to the body as well as the face (avoid the eyes, intimate and sensitive areas of the body) 


Full list of Ingredients:
Aqua,Prunus Armeniaca (Apricot kernel Oil), Cetearyl Alcohol & Polysorbate 60, Helianthus Annuus (Sunflower)  Seed Oil, Glycerine (Veg), Olea Europaea (Olive) Oil, Cocos Nucifera (Coconut Oil), Butyrospermum Parkii (Shea Butter), Phenoxyethanol, Ethylhexylglycerin, Stearic Acid, Zinc oxide, Xanthan Gum, Allantoin, Avena Sativa Meal Extract ( Oat Silk), tocopherol, Pyrus malus, Citrus Medica Limonum, Vaccinium myrtillus, Saccharum officinarum, Vitis Vinifera, Propylene Glycol, Lactic Acid, Citric Acid, Glycolic Acid, Malic Acid, Tartaric Acid, Cucurbita Pepo (Pumpkin) Seed Oil, Sodium hyaluronate (Hyaluronic Acid), Retinyl Palmitate (Vitamin A palmitive), Sodium Ascorbyl Phosphate (Vitamin C), Foeniculum vulgare dulce (Sweet Fennel) Essential Oil, Citrus Aurantium Dulcis (Orange) Peel Oil, Citrus Grandis (Grapefruit) Peel Oil, Cananga Odorata (Ylang Ylang) Flower Oil, Anisaldehyde (p-methoxybenzaldehyde)*, Benzyl alcohol*, Benzyl benzoate*, Benzyl salicylate*, Citral*, Estragole*, Eugenol*, Farnesol*, Geraniol*, Isoeugenol*, Limonene*, Linalool*.

Directions:
Wash, cleanse and dry skin. Apply an even layer over the affected area twice daily. Massage the cream into your skin until it is totally absorbed. We suggest exfoliating the skin before application to obtain the best results. Please consult with a dermatologist before to use if you have any underlying conditions or general concerns. Apply once in the morning and once at night for best results.
The use of an additional sunblock of SPF 30 (or higher) is strongly recommended.
Wait 10 minutes before applying makeup and/or sunblock.
Heavy sun exposure should be avoided.
For topical use only.
Store in a cool, dry place


Hyperfade comes in a high quality bottle that uses AIRLESS technology.
Airless pump bottles protect natural skin care creams such as Hyperfade by preventing the contents from excessive exposure to air, thus increase the shelf life up to 15% more. Airless technology is the new future of cosmetic, beauty, and medical packaging. The airless bottle has a diaphragm that rises to dispense the product. When you depress the pump, it creates a vacuum effect, drawing the product upwards. You can use almost all of the product without any waste left over. (you may need to press the pump a few times when first using the product).


Warning: Avoid contact with eyes. Some users may experience mild skin irritation. If irritation becomes severe, discontinue.  Spot test for allergic reactions on the arm or neck prior to using any product on the face. Do not use if you are pregnant or nursing. Not recommended for children.