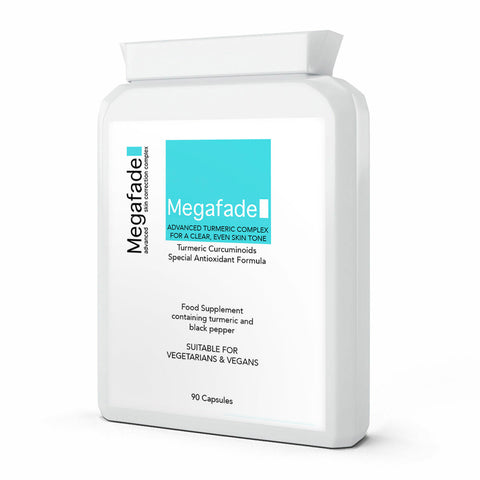 Megafade Advanced Turmeric Complex For A Clear, Even Skin Tone
Megafade Advanced Turmeric Complex For A Clear, Even Skin Tone
Special Curcuminoids Formula
Recommended for skin with:
hyperpigmentation
dull skin
visible wrinkles
age spots
discolorations skin damaged by sun
This HIGH GRADE Super Charged Turmeric supplement helps to even out your skin tone. It also acts as a booster to speed up the results from skin lightening and hyperpigmemtation creams. It is a powerful antioxidant – The process of oxidation damages the skin cells.*


Turmeric Curcuminoids Complex 90 Capsules provides a blend of Turmeric Extract, Turmeric Powder and Black Pepper to provide a convenient daily supplement containing 500mg of Turmeric with 66mg curcuminoids per capsule.
Known as "the golden spice", this i
ngredient is loaded with antioxidants and anti-inflammatory components which help treat a number of skin concerns such as acne and acne scars, pigmentation, early signs of ageing and sun damage.
Turmeric benefits
 the skin by minimising the appearance of dark spots and scars. Curcumin is the main active ingredient in turmeric which has powerful antioxidant and anti-inflammatory properties. It is curcumin that helps reduce excess production of melanin which in turn lightens the skin, fades marks and scars and evens out the skin tone.
SUITABLE FOR VEGETARIANS & VEGANS
Active Ingredients
Typical per capsule:

Turmeric 500mg
providing curcuminoid 66mg
Black Pepper 5mg

Full Ingredients: Turmeric Powder, Capsule Shell: (Hydroxypropyl Methylcellulose), Turmeric Extract, Anti-Caking Agent (Rice Extract, Rice Hulls, Gum Arabic, Sunflower Oil), Black Pepper Extract.

Allergy Advice: Although rigorous precautions are taken to prevent any cross-contamination, this product is manufactured in a facility that handles allergy-based materials.
Directions
Adults, take 2-3 capsules per day, with water and food. Do not exceed recommended daily dose.
Cautions
Always consult your health practitioner before taking nutritional supplements, especially if you are taking medication or are under medical supervision. Not recommended for children, pregnant or lactating women. You should not take supplements as a substitute for a varied balanced diet or healthy lifestyle. Store in a cool dry place, out of reach of children.
 
Megafade Turmeric capsules are manufactured in the UK to Good Manufacturing code of practice and BS:EN 9001:2000 quality assurance certification. Only the finest quality raw materials in their highest and purest form are used.
Good Manufacturing Practice provides independent verification and certification that the basic manufacturing practices and prerequisites necessary for product quality and safety are being followed. This goes above and beyond what is required, ensuring we can guarantee you receive a high quality product.