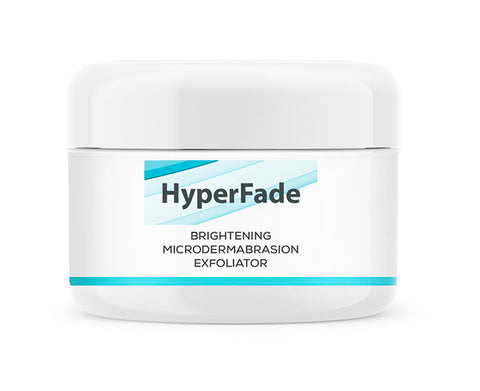 Brightening Microdermabrasion Exfoliator For Dark Spots
Hyperfade Brightening Microdermabrasion Exfoliator For Dark Spots - 100ml
Infused with acai and goji berry, this special exfoliator is rich in antioxidants and so is effective in reducing skin discolourations and the signs of ageing by slowing down the damage caused by free radicals. The natural yet potent formula removes dead skin cells and the skin's excess natural oils are absorbed, leaving pores clear and inhibiting the formation of dark spots. This treatment will instantly give the skin a natural healthy glow.
An exfoliating superstar! This is a concentrated blend of high grade pumice, coconut oil, avocado oil, goji berry, apricot kernel oil, and vitamins C and E. It brightens, clears, and rejuvenates as skin is deeply exfoliated.
Microdermabrasion sloughs off the dead and dull surface layers of the skin, stimulating an increase in collagen production and rejuvenation. 
Benefits
Exceptional exfoliation, dead skin cell removal
Evens out and brightens the skin
Exposes vibrant new skin
Fades dark spots and discolourations
Reduces the appearance of wrinkles and fine lines
DIRECTIONS FOR USE:
APPLY A SMALL AMOUNT OF CREAM TO WET SKIN. GENTLY MASSAGE IN AND RINSE OFF WITH WARM WATER.
THIS PRODUCT IS:
Cruelty free
Paraben and sulphate free